Best PS4 IP Sniffers And IP Pullers – To resolve console IP addresses and users, find the top PS4 IP Sniffers and IP Pullers.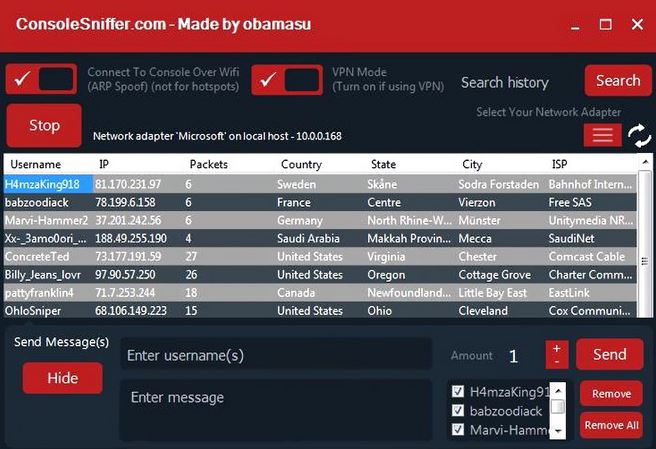 Best PS4 IP Sniffers And IP Pullers
The internet brought gaming to a new level, and now almost all new games are played online. While most games are multiplayer for playing with others online, some games are single-player.
There aren't many games that don't use the internet. What if you and your buddies are playing a game online and you want to win by cutting off their connection? Players may identify usernames and IP addresses.
There are several programmes available for resolving IP addresses and PS4 accounts. We've included the top PS4 IP sniffers and IP pullers in one post so you can find, follow, and learn more about a PSN player's specifics.
There are several options for users to resolve a target's IP address. Others of them are quite complex, difficult for non-tech users to operate, and need expert level hacking abilities.
On the other side, there are some that are really basic and straightforward to use. These tools make it so simple for beginners to experiment.
Your IP address will be recorded in the server logs each time you access a website or use a booter against someone. Therefore, before using the booter, be sure to remain anonymous by utilising any reliable VPN service in order to prevent IP leaks.
You might be prosecuted with cybercrime if a security agency can link your IP address to a specific website where you launched the assault. Before connecting to the top PS4 IP booters, don't forget to utilise the VPN.
Most effective PS4 IP sniffers and IP pullers
There are many other network tools available, but these are the top PS4 IP sniffers and IP pullers.
1. PSN Resolver
PSN resolvers are the programmes that translate PSN and PlayStation Network user names into IP addresses and vice versa. It functions similarly to the DNS in that each domain is hosted on a different IP address, which is then translated by the web browser.
A central database server with access to all PSN usernames is necessary for PSN resolver, but the business forbids other users from accessing this confidential data from the database. As a result, certain usernames cannot be resolved.
2. Lanc Remastered
A powerful IP sniffer programme for gamers, Lanc Remastered reveals all the information about other players, including their precise geographic location. For multiplayer gaming on PS4 and Xbox, Lanc Remastered is completely compatible.
This tool is among the greatest Xbox IP pullers because of its very compelling and potent features. One of the greatest IP pullers and booters for PlayStation and Xbox Resolver, Lanc Remastered translates the username of the PS4 to its given IP address.
3. Octosniff
Octosniff has robust and sophisticated packet filters that make it simple to use and interact with. Finding the games without having to worry about updates.
The user may decide the packets automatically and mess-free thanks to its sophisticated filters. You can quickly determine which packets are coming from which game and which ones are being acquired through Xbox chat or the game's server IP.
4. ConsoleSniffer
You may learn everything about the other gamers and their details, including their geographic location, thanks to ConsoleSniffer. All other gaming consoles, including the PS4 and Xbox, are completely compatible with ConsoleSniffer, allowing users to engage in competitive play.
This tool is among the greatest Xbox IP pullers because of its very compelling and potent features.
5. Cain and Abel
For all Windows operating systems, there is a recovery tool called Cain and Abel software. By sniffing the packets sent over the same network, it enables the user to retrieve various types of user passwords.
Abel and Cain Download to use numerous cracking techniques, such as brute force assaults, dictionary attacks, scrambled password decoders, stripping out saved/cached passwords, and even routing protocol analysis, to break tiny and even very big passwords, including encrypted ones.
Related Tags: Best PS4 IP Sniffers And IP Pullers